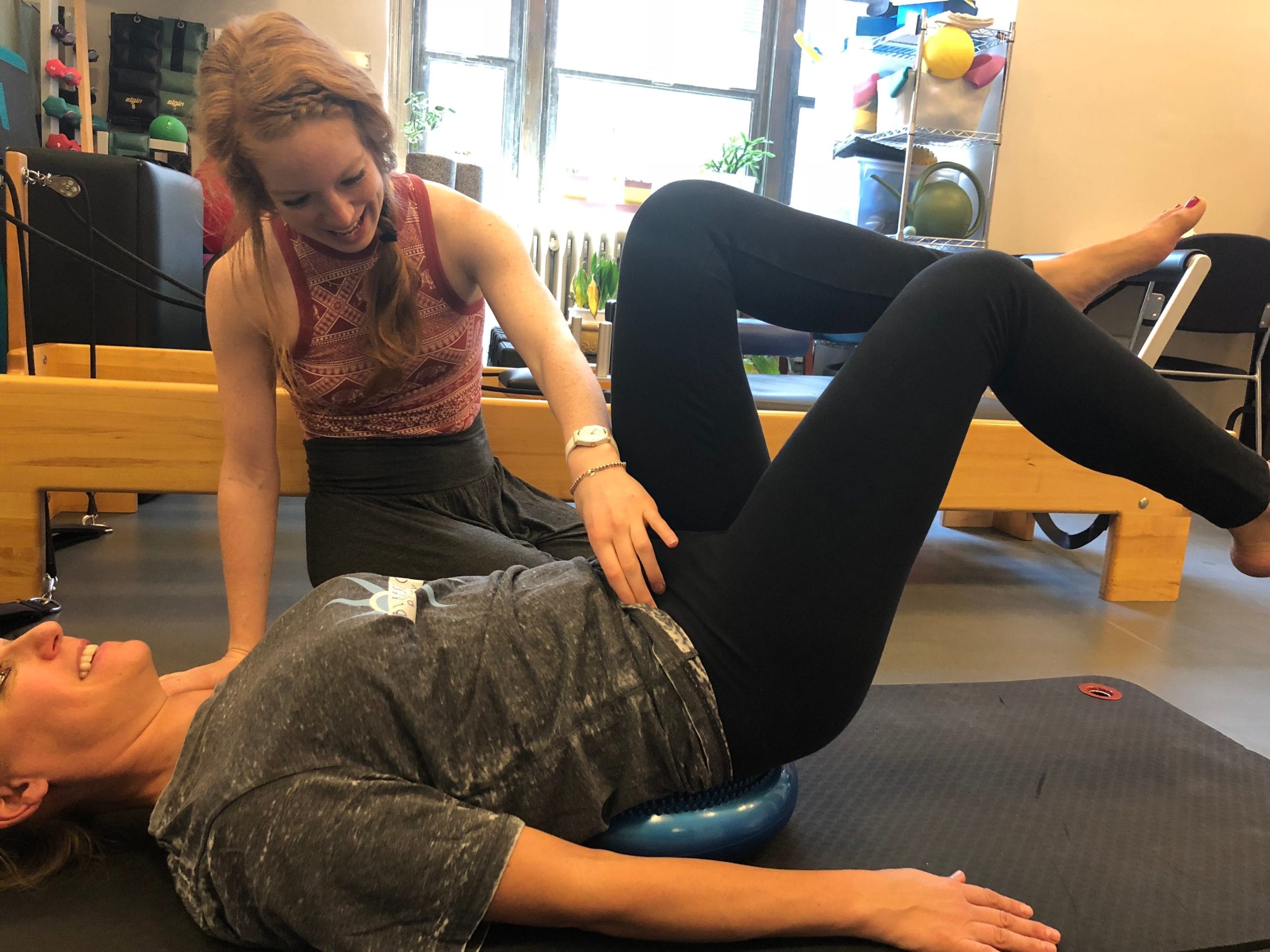 Kierstin Elliot
Almost all postpartum women experience some degree of diastasis recti, or separation of the rectus abdominis or 6 pack muscles. Think about it, your abdomen is stretching continuously for a solid nine months! Something's got to give. The linea alba (line of connective tissue that splits your rectus abdominus right down the middle) separates as a result of a growing baby. On some women, this separation naturally heals itself within the first year postpartum. In other women, the separation is so severe that they need a little extra attention and care to fuse their rectus abdominis back together again.
Once you've given yourself enough time to heal the inflamed tissues from giving birth, usually about 6-8 weeks, then you can start implementing some basic Pilates principles into your routine. Drawing attention to the breath, the transversus abdominus (TA), and the pelvic floor without creating excess pressure throughout your system, will be essential while moving towards healing your diastasis.
Connecting to your breath and your TA should be the first step. Deep three-dimensional inhalation to the back of the ribs and mindful exhalation, tapping into the TA will be crucial. During the exhale you should feel as if your abdomen is hugging or wrapping around your waist like a belt. This is TA activation. Once you've established the TA activation, focus on drawing your bottom ribs towards your naval and narrowing your ASIS (hip bones) towards each other. Imagine a drawstring; when you pull the drawstring, the opening of whatever object you're trying to close, draws together from all sides evenly. That is the effect we are trying to create with the abdomen. Visualize your naval as the center of the opening and your exhalation pulling the drawstring closed.
Once you've mastered connecting breath to the TA, shift your focus to the pelvic floor. The easiest way to achieve this is by lying on your back with a neutral pelvis with knees bent and feet flat on the floor. Visualize the tailbone unfurling and your sits bones widening as you inhale allowing the pelvic floor to gently stretch and relax. On the exhale, as you engage the TA and obliques, feel the pelvic floor tighten slightly and if appropriate (after a pelvic floor check from your PT) find a kegel. The ultimate goal is to be able to contract and release your pelvic floor without any problems. After practicing this breathing exercise every day for about 8-10 reps, you should start to feel stronger throughout your core and find some closure or firmness in the linea alba.
This first step is HUGE. After 2-3 weeks of consistent breath work and core activation, layering more extensive exercises will become safe and accessible. Keep in mind that it is not wise to go from zero to one hundred, but rather continue to build and progress slowly. It may feel tedious, but I can't stress enough how imperative it is to lay this foundation and rebuild your core after birth. Once you feel you've made considerable progress with breath work, add in marches (leg lifts) targeting lower abdominal stabilizers and add in a side lying series to challenge pelvic and core stability while also strengthening glutes. Try a side plank starting on knees and then progressing to feet. Any exercise in quadruped is a safe bet that targets shoulder stability, core, glutes, and hamstrings!
One thing to note is that women with more severe cases of diastasis should avoid abdominal curls, rollups, or flexion of the rectus abdominis until there's been a considerable amount of progress with the deeper core muscles. If you fall under this category and constantly wonder if you'll ever close your diastasis, yes! You can! And you will if you dedicate the attention and mindfulness to connecting to your body. Think you're doing everything right, but still feel like no progress is being made? Feel free to book a session with me at Beyond Basics Physical Therapy! I'd be more than happy to help you out on closing your diastasis and transitioning you back into the wonderful world of pilates 🙂