As we creep closer and closer towards marathon weekend, our very own Tina Cardenia PT, DPT, CFMT and Victoria LaManna (Vicky) PT, DPT, CLT, PRPC were kind enough to share their stories about preparing for the 2018 New York City Marathon. Vicky will be running her first marathon on November 4th, 2018 in order to raise money for Multiple Sclerosis Research. Tina was gracious enough to volunteer her expertise in orthopedic physical therapy to help Vicky have the best run possible for a great cause. If you are interested in donating to support MS research, please donate here and read more about their stories below. If you are interested in hearing more about our orthopedic and sports program here at Beyond Basics Physical Therapy, give us a call at 212-354-2622.
From the Runner's Perspective
Victoria LaManna (Vicky) PT, DPT, CLT, PRPC
This year I am participating in my first ever marathon in the NYC Marathon for Team TischMS. Truly, this is my first ever 5k, Half Marathon, or Full Marathon. I am traditionally an anaerobic, (short bursts energy) exerciser. I have played soccer, dabbled in Muay Thai kickboxing, yoga, and weight lifting for exercise. The mind-body challenge of running a marathon (and doing it all for a great cause!) appealed to me. But where to start?
Luckily, I am in a profession that specializes in exercise, injury screening, and prevention, as well as injury rehabilitation. One of my co-workers has also run a few marathons and pointed me in the right direction for a training schedule. To further help ensure success in my training process, I also started physical therapy and made sure I got on my co-worker Tina's super busy schedule.
She first tested my core strength, checked hip mobility and strength, as well as spine and rib cage mobility. All areas that are important for efficient running. Tina found that I had poor core-first responses to outside forces, meaning that every time my foot hit the ground while running, my core was not firing to connect my lower extremities to my trunk. This could definitely be why I was experiencing right low back pain with running, and it could actually lead to further injury and result in not being able to RUN at all! Tina also found limitations in my breathing, rib cage, and thoracic mobility. Other than back pain, my first main complaint a few weeks into training was that I could not breathe. While you could chalk that up to poor conditioning, it was something that was felt immediately in runs – as if I just did not have the capacity to take a breath in. This is where we started our treatment – rib cage and thoracic spine mobility.
From there, Tina continued treating based on observation of my running pattern. She continued to work on hip, spine mobility and core control based on what she saw was insufficient in my running. My breathing improved greatly, as well as my mobility. I began to run completely pain-free with ease.
About 2 months away from Marathon Day, I injured my right foot trying to complete a 16-mile training run. I was unable to walk without pain and was limping around the office. Tina quickly observed that I had a bone in my foot and ankle that were compressed and out of alignment. Her work to align my foot and ankle, working all the way up again through my hip and trunk helped me to get back to pain-free running.
I am all set to run the NYC Marathon Sunday, November 4th! I am incredibly thankful to Tina for helping me to get through my training pain-free, manage an injury along the way, and quickly get me back on track for race day. And I am thankful for Team TISCH for allowing me the opportunity to join their team and support a great cause that affects many men and women.
Are you training for a marathon? Looking to improve your running form? OR even improve your golf swing? I would highly recommend seeing a physical therapist for an injury prevention screen for any and all sports, recreation or exercise. Setting yourself up for optimal movement and mechanics will enhance your activity, as well as reduce the risk of injury. It worked for me!!
From the Therapist's Perspective:
Tina Cardenia PT, DPT, CFMT
Victoria LaManna is such an inspiration. She volunteered to run the NYC marathon this year with little to no running experience and I was lucky enough to help prepare her! I have been working with Victoria for the past 6 months and I am amazed by how far she has come and how much she has already accomplished. Each week during our PT sessions there were a couple of things that I would look at to monitor her progress. I would observe her running, assess her core with tests called the Lumbar Protective Mechanism* and the Elbow Flexion Test*, her standing posture, her single leg stance, double leg squat, single leg squat, her glut and hamstring strength and how it connects to her trunk, and trunk rotation range of motion.
I saw that Vicky's main limitations when I was observing her run were her limited trunk rotation towards the right, poor landing control on both of her legs especially her right one, and running with her feet turned out. One of the main things I looked for when observing Vicky run is the force transfer through her body from her feet to her trunk, and how the force translates through the rest of her body. It looked as though the force transfer wasn't as efficient as I would have liked and this repetitive stress through her back and legs could potentially lead to injury.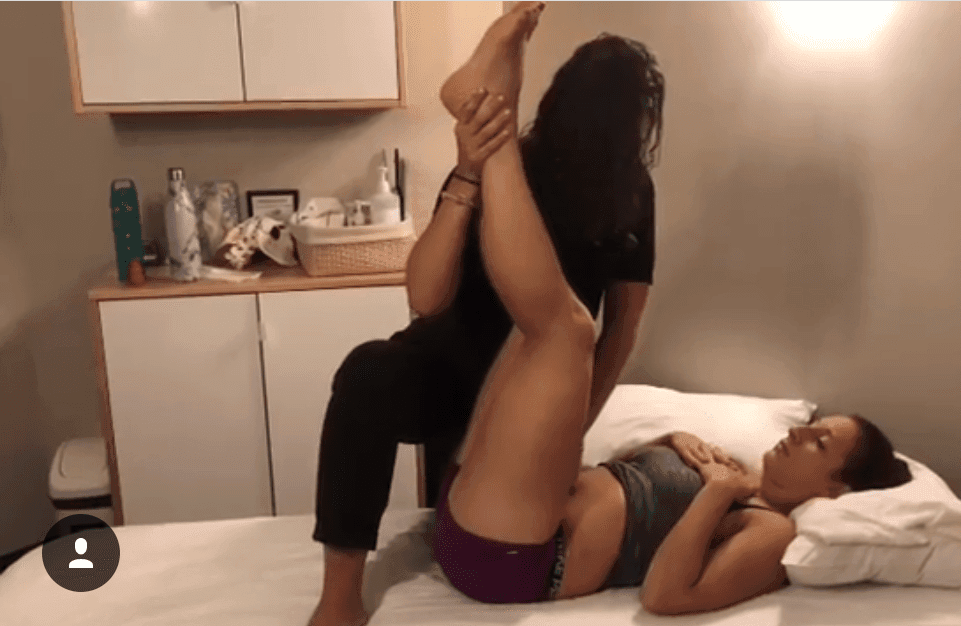 Vicky's limitation with trunk rotation correlated to one of her complaints of having difficulty breathing during her runs. It seemed as though she was only able to get a good breath through only one side of her body. Upon examination, I found that she was limited into rib cage expansion especially on the right side. After some rib mobilization and breathing inhalation retraining and working thoracic spine rotation Victoria was able to rotate more symmetrically and reported an increased ease of breath with running.
Vicky's lack of control with landing while running meant that she had a lack of eccentric (the motion of an active muscle while it is lengthening) control through her pelvis, causing compression through her back every time she lands. This could explain the low back pain Vicky has been experiencing. To address this, I worked on increasing the mobility and range of motion through her hips, pelvis, and back. I then worked on retraining her body with specific neuromuscular techniques called Proprioceptive Neuromuscular Facilitation (PNF) and specific exercises to help Vicky create a core first strategy with her running. This means, with every step and every movement Vicky is able to initiate with her core muscles first, which prevented her from overusing her bigger muscles which tend to fatigue quickly and can lead to injury and pain.
Vicky was running with her feet turned out causing poor force absorption from her feet up to her body. This style of running can also result in muscle overuse injuries and pain over time. This could have also been contributing to her complaints of shin splints while running. To work on this, I evaluated Vicky's foot and ankle mobility, her knee tracking with squats, and single leg squats. With knee tracking, I noticed that she went into valgus with both of her knees, but it was worse on her right. Valgus means that her knees were "knocking in" which was an issue of having weak hip strength as well as lack of mobility and flexibility through some of her leg muscles and joints. I did a lot of manual work to restore good range of motion and mobility and a lot of muscle retraining and drills to train Vicky to use those muscles appropriately and to be able to carry it over into her running.
After all this training and all the hard work that Vicky has been putting into running, Vicky's running form now looks great! She has much more mobility through her trunk, is able to control her landing much more efficiently and is able to connect her feet for a better push off during running! Even as Vicky increased her mileage, she kept reporting to me how much easier her runs have been feeling, how much easier it was to breathe and how much more ease of motion she had through each run, and I couldn't be more proud of her hard work!
*The Lumbar Protective Mechanism and the Elbow Flexion Test are special tests that come from the Institute of Physical Art. If you would like to learn more about their approach to PT, click here.